Pallet Decking for Goat Fence and Pens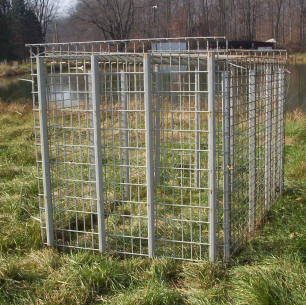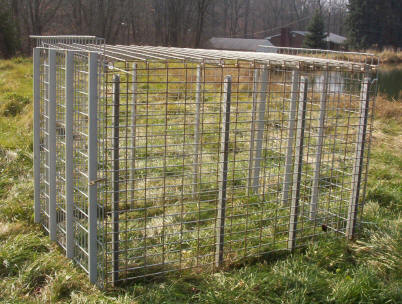 Approximately 4'x6'x4' covered goat pen made from 5 pallet rack decks, a few cable ties and a bolt snap.
Could also be used for a dog, or fence in your grain to protect it from the goats.
Years ago I went to a show in North Carolina at an Ag center where the pens were made from industrial pallet rack decking. It was wonderful, and I've been looking for some ever since. I finally found some, but had to take a lot more than I needed. The decks are made of 1/4" wire in 2" x 4" grids. They are reinforced with steel tubing.
I have two sizes. They are approximately 45" x 69" or 46" x 49". They are used, so some have surface rust and minor bends in the corners. I haven't weighed them, but I'd estimate they weigh 35-45 lbs each.
4 of them, cable clamped and/or bolt snapped together, will make an excellent kid or kidding pen. Add a fifth on top for an as-goat-proof-as-possible unit. For long runs of fence, drive a piece of rebar through a support tube of each section.
Usual "used" price, that I've been able to find, for similar panels is $10-12.50. I'm selling these for $7.50 each for 4 or more, picked up at the farm or delivered to events that I'm attending. I have between 60-80 available.
For information email goats@buttinheads.com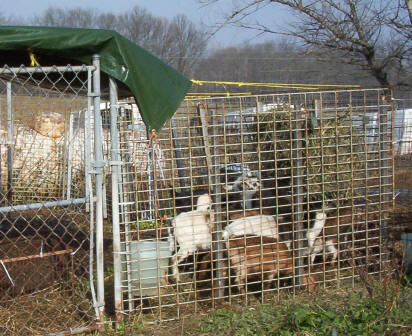 Dry yearlings in their pen made of decking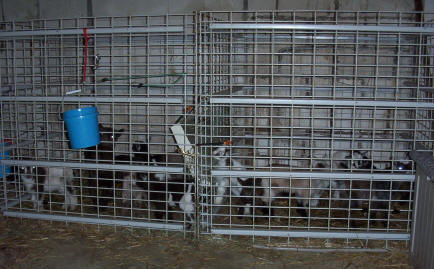 7 panels make 2 secure kidding pens. Add 14 Nigerian Dwarf kids and you have 2 kid pens